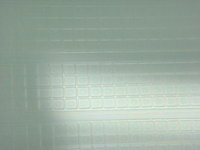 Novel Screen Printable Etcher for Patterning Conductive Polymer Coated Films
Advantages:
Screen Printable
Very High Production Speed
Suitable for Roll-to-Roll Production
Low Equipment Investments and Low Production Costs
High Resolution: L/S 40- 90 micros
Works for Major Conductive Polymer Coated Films
No Toxic or Corrosive Chemicals are Used, Very Safe to Use
Low Color Differences
Excellent Patterning Quality
POLYCHEM Etcher and Etching Processes:
(1). Screen Printing a negative image of Polychem Etcher on the Predetermined Non-Conductive Areas of the conductive polymer coated films.


(2). Heating the printed conductive films at 110~130C for 5 minutes to allow the Etcher to react with the covered conductive polymer to form Non-Conductive Areas.
(3). Use pure water to flush away the residual Etcher on the conductive polymer coated films. Then, air dries the patterned conductive films to eliminate the residual water on the patterned
films.  Then conductive circuits are formed.